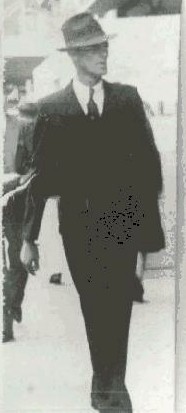 Descendants of John Joseph Adams Generation No. 1

JOHN JOSEPH ADAMS (ROBERT FRANKLIN4, JEFFERSON MOORE3, JOHN2, WILLIAM F.1) was born October 12, 1905 in McCrea/Jacoby, Pointe Coupee Parish, Louisiana, and died January 17, 1943.

He married OLIVIA VICTORIA TULLIER September 11, 1927. She was born in Sorento.

Children of JOHN ADAMS and OLIVIA TULLIER are:

DONNIE ADAMS.
DANIEL J ADAMS, b. 1930; m. PEARL MCKEY; b. Abt. 1930, Liberty, Mississippi.
ELEVELYN ADAMS

Visit AldridgeAdamsJones to see what you think.