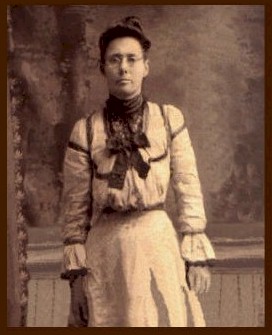 Descendants of Lavinia Anne Wilkerson Nash Generation No. 1

LAVINIA ANNE WILKERSON was born March 16, 1856 in Livinston Parish, Louisiana, and died September 30, 1921 in Eunice, Louisiana. She married WILLIAM CHARLES NASH December 31, 1880, son of ELY NASH and SARAH TEAL. He was born June 12, 1856 in Miss Miss Miss, Cheneyville, Louisiana in 1848, and died December 30, 1942 in Plantersville, Alabama.

Children of LAVINIA WILKERSON and WILLIAM NASH are:

LILLIE BARBARA NASH, b. February 1880, Coon, Louisiana, Wid. of Jefferson Strauter Adams; d. June 1962, Coon, Louisiana at 80 years of age; m. (1) ALEXANDER STRAUTER ADAMS, Abt. 1900; b. May 24, 1878, Georgia; d. August 12, 1916, McCrea, Louisiana at the age of 38 years; m. (2) LOUIS B. DUPUY, February 21, 1920, Pointe Coupee Parish, LA file# 1619; b. 1873, Of McCrea, Louisiana, Widower of Olivia Hebert; d. June 1962
Visit AldridgeAdamsJones to see what you think.